Got a pretty good question in WatchMadazTrade today where someone asked me about my set up for trading in terms of hardware.  I was thinking about writing an article or making a video about this earlier but never had the time but now since people are asking about it I'd thought I'd write this article about what I feel day traders need to have and should NOT cheap out on if they plan on doing this for a living or at least to generate consistent income.  And the best part is, if you're a declared business trader with the IRS, all of these things are tax deductible!
1) A Very Fast Computer: There's no excuses, here if your computer lags, you're screwed.  Trading platforms hog RAM, you need a fast CPU to load applications faster, a Solid State Drive (SSD) in case you wake up at 9:29AM after a long night of partying and need to boot your computer in 10 seconds, a good graphics card (GPU) to support multiple monitors, etc…  Now you say, 'Madaz, I don't have thousands of dollars to blow on a fast computer'.  Well guess what, I got my computer on slickdeals for 380 bucks, so it's possible.  Take advantage of black friday/cyber monday deals.  Just get a fast computer and don't cheap out on it, trust me.
My Current Computer Key Specs: Intel Core i-7 3770, 12 GB RAM, Nvidia GeForce GTX 660 ( Supports 4 monitors and I also game), 500GB Samsung 840 EVO SSD.
2) Multiple Monitors: Ever had moments where you had to keep changing tickers because there were too many stocks in play then you missed other plays because you couldn't fit them all on your one tiny screen?  Solution? Get more monitors!  With the 4K resolution stuff coming out the 1080p monitors are dropping in price faster than a penny stock crash.  I picked up 3 of my 4 monitors on slickdeals, my 27″ for 150 bucks and 2 24″ for 75 bucks.  My 4th 24″ I got for free when my friend's workplace dumped in the back because it had one dead pixel.  Through any means possible, get 3-4 monitors.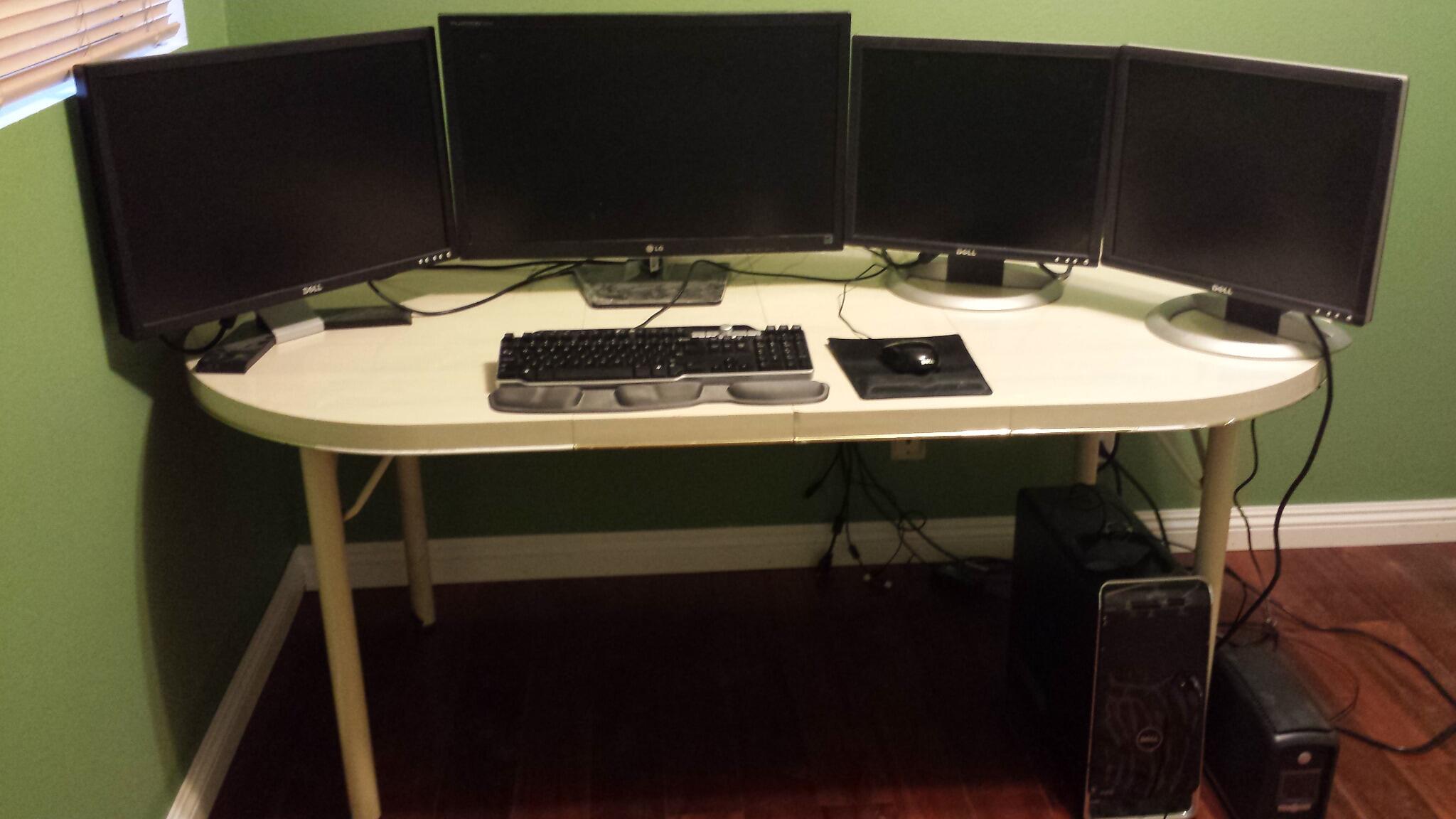 3) Lightning Fast Internet Connection (and Back Up Connection as well!): Does your internet lag or drop from time to time?  If so, get a fast and more reliable internet connection!  I went from a 1Mbit connection to a 35MBit connection and it's like I fast forwarded from the stone age to the golden age.  There's no reason why you should cheap out on an internet connection if you have thousands of dollars on the line, especially seeing how internet is cheap nowadays you can get deals for 30 bucks a month.  30 bucks a month vs. thousands of dollars in a trade!  Use common sense.  Also get a backup internet connection, you can get a 2nd DSL or dial up line or what I do, get tethering on your phone so you can connect your 4G LTE phone and use it's internet to bail all your positions for peace of mind.
4) Backup Power Supply (UPS): Power outrages are no fun, especially when you were in the middle of a huge trade where you have everything on the line.  The solution? Get a UPS.  In the picture above in my setup, you can see a little thing to the right of my computer tower.  That is my UPS, which I have everything connected to.  It provides me with about 15 minutes to bail all my positions in case the power decides to crap in my area.  Here's a link to the one I have: http://www.amazon.com/CyberPower-CP1000AVRLCD-Intelligent-Series-Mini-Tower/dp/B000QZ3UG0/ref=sr_1_4?ie=UTF8&qid=1395857892&sr=8-4&keywords=UPS
It's 100 bucks, don't cheap out on it.  You're going to regret it.
5) A Laptop or 2nd computer: In the event that your primary computer takes a crap on you, have a 2nd machine ready for you to jump on and at least sell all your positions.
6) Telephone or Cell Phone Next to You at all times:  Always have your broker within reach at all times.  Calling your broker to ask questions and most importantly as a last resort method to sell your position in case everything craps out on you even your backup equipment is very important.
That's all I can think of off the top of my head.  Overall, the idea is, be cognizant about this.  Everything is relatively cheap compared to the thousands of dollars in losses you may incur from cheaping out on hundreds of dollars of equipment.  Use common sense and trade smart.
Max AKA Madaz
If you haven't signed up already for WatchMadazTrade. You're missing out on some awesome live trading!
Did you know that you can watch Stockhaven trade live in real time?
Learn how to daytrade by watching someone else trade! Watchhimtrade.com is the only site that lets you look over the shoulder of a professional daytrader.
Watch this video now where he shows you how it's possible to make 100% in just 5 minutes!